Mainfeatures for Scotle-858d Smd Rework Station, Mini Hot Air Soldering Stations with Solder Gun
1. Closed-loop sensors,Zero-crossing triggering temperature control of microcomputer, LED display, high power, rapid rise of temperature, temperature high and stable, not affected by the amount of air to achieve the goal of desoldering without lead.
2. The amount of air flow can be modulated, large and soft air flow, it is convenient to modulatetemperature,it is suitable for many purposes.
3. There is a conductive switch on the handle,only if you hold the handle, the system can enter the working mode rapidly, while the handle is put on the shelf, it will enter the waiting state,easy to operate.
4. There is no automatic cooling function, which can extend the lifespan of the heating element and protect the hot air rework station.
5. Plastic shell, cabinet, good-looking, it occupies little space.
6. It adopts the brushness fan, which has a long life span and little noise.
7. Blowing plastic components won't be deformed. Such as buzzer and external interface of mobile phone.
8. Blowing shielding box will not make it discolor.
9. Blowing PCB will not make it blister.
10. Safely remove BAG-IC, keep pins intact. Much more safe and reliable.
11. It is suitable for SMD, SOIC, CHIP, QFP, PLCC, BGA rework.
12. CE is approved
Why buy from Scotle?
Got CE approved.
From reliable & trustable profesional and reliable Lcd Repair Machine Factory

Youtube Scotle machine video support.
Technical team always available.
English manual available.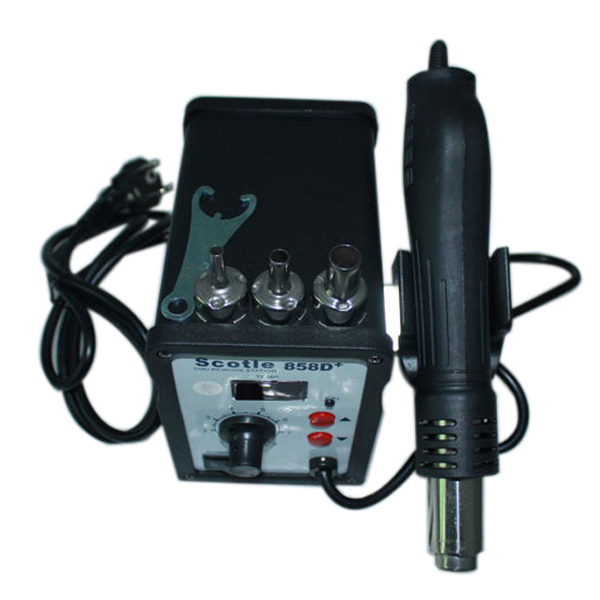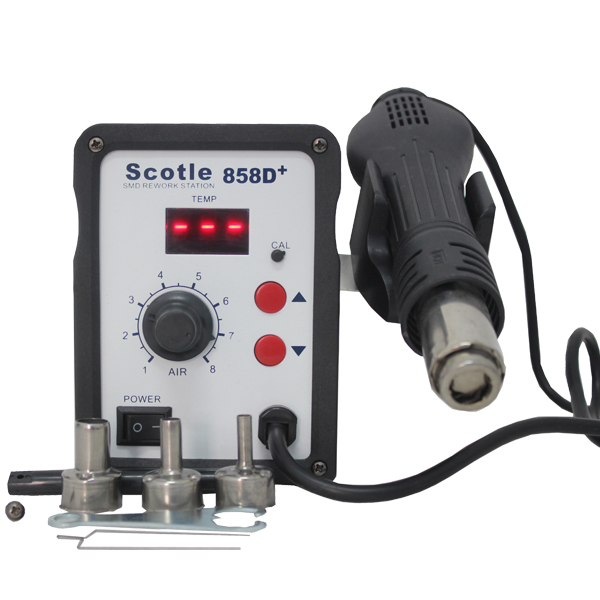 Company Information
Scotle is located in Shenzhen, China.
Our factory owns 2 brands , scotle and achi.
We has 7 years experiences in manufacturing and exporting BGA rework stations.
Our BGA rework stations , such as scotle hr460, scotle ir 6000, scotle ir pro sc, scotle ir360 pro, scotle sv550c, achi ir 12000, achi ir pro sc, achi ir6500 are hot sale in the world, especially in these countries from North and South American,European and Asian.
Company And Our Customers Show
Business opportunities are everywhere !
We want you to be our overseas distributors / agents !
Model : Scotle 858D+
Voltage : AC220V/50Hz
Power consumption : 700W
Type of air pump : Gentle wind of brushless fan
Hot air flow : 120L/min(MAX)
Temperature range : 100-450°C
Length of handle(including the wire) : 12cm
Scotle-858d Smd Rework Station, Mini Hot Air Soldering Stations with Solder Gun for soldering, reballing , desoldering hot air gun desoldering etc.
Packaging
Packaging material: Standard cartons
Packaging size and weight: 26X17X15cm / 2.8KG
Shipping
A. 3-8 workdays shipping from China by Air/Express(DHL,FedEx,UPS,EMS etc.)
B. 3-5 workdays shipping from UK & Germany Warehouse to European union countries.No need to pay for customs duties and VAT.
C. We can arrange shipment by sea. Minium CBM requirement : 1 CBM